Radio-uitzending van 1 november 2021. Deze avond een gesprek tussen anarchisten over het organiseren van niet-aangemelde demonstraties en waarom dat een van onze vaste tactieken zou moeten zijn.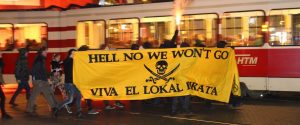 Download de uitzending hier, of luister direct via het onderstaande bestand. De volgende uitzending is op 29 november te luisteren op Radio Tonka 92.0 FM om 23.00 in de regio Den Haag. Live streamen op radiotonka.org!
Alleen het gesprek:
Muziek in de uitzending:

Linton Kwesi Johnson – Liesense Fi Kill
The Angelic Upstarts – Police Oppression
Disrupt – A Life's A Life
Instruktah D – Bomb Their Circles
Dead Prez – Fuck The Law
IRAH – Bumbahole Borris
Soom T – Politic Man
The Adicts – Viva La Revolution
Download: open het audiobestand in een nieuw tab-blad, rechts-click op het bestand en sla het op om te downloaden.